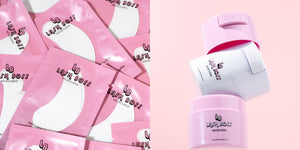 Australia's Leading Eyelash Extension Training Provider
LOCATED IN THE HEART OF CHADSTONE
Nationally Recognised Lash Training Academy.
Online, At-Home, & In-Person Flexibility.
Mentoring and support for life.
Lash Boss Melbourne is an industry leading eyelash extension academy. We offer eyelash extension courses and training from our lash training office in Chadstone. At-home lash courses are also now available to learn at your own pace - no expiry whatsoever. We offer unlimited email, SMS, livechat, social DM's and phone support with all eyelash extension courses to assist with away from class learning.
All our eyelash extension courses come with excellent quality supplies necessary to learn, practise and perform dozens of eyelash extension applications. This means that you can make thousands from your student kit alone. Our eyelash extension supplies kit may be the most generous of all eyelash extension academies in Australia.
We have over 2,500 successfully certified eyelash extension graduates Australia-wide and counting. We're proud to say that our eyelash extension training and lash lift courses are so successful due to their step-by-step, easy to understand learning materials. We're so confident anyone can learn how to lash, even from their own home, that we provide unlimited, lifetime support on all Lash Boss Melbourne courses for all eyelash extension students. This extends to even graduates - where they can contact us well and truly into their career for eyelash extension related advice, business growth advice, marketing and advertising advice, techniques, tips and tricks. In our courses, we provide advantageous information on how to get more clients, setup your own business or home salon, basic digital and social media marketing, and superior eyelash extension application techniques.
An ASIC registered company, Lash Boss Melbourne is an eyelash extension academy that meets the Australian Government's Assessment Requirements for Application and Training of Eyelash Extensions, and we are fully insured.
All our eyelash extension courses and eyelash extension supplies are supported by Zippay, PayPal and Afterpay.
Let customers speak for us
Our Best-Selling Lash Courses
Connect With Us On Instagram