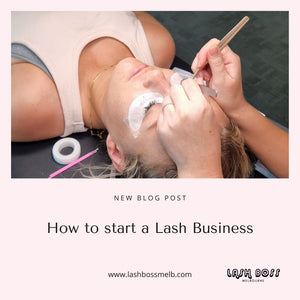 How to start a Lash Business
The first step to kicking off your own lash business is to book in your lash extension course. There are hundreds, if not thousands, of lash extension courses to choose from Australia wide - so which is best? For those that are confident in learning quickly and are self-motivated, there's the option to learn a lash course from home. Many lash technician students prefer to learn in-person as this is usually be quicker and a lot easier, obviously due to the fact of having an instructor present. Once your lash extension course has been booked, it's time to get your business social media pages started early on to capture anyone who's looking for a new lash technician, is in your local area, or is in your existing network, may it be family or friends.
Starting your social media presence early can be the difference of weeks or even months of digital marketing done while you wait for your lash course. If you have an existing beauty page or blog, it can be worthwhile taking advantage of your audience to promote your new endeavours. 
Buying business essentials to start your lash salon is also a great way to utilise the time you have before completing your lash course. While you build on your salon or home-based business, take photos and videos, as this is excellent content for your pages. Don't be hesitant to show others your progress. Everyone knows a business starts with an idea, and your followers can see the honesty in your work. 
Lash extension course completion - Congrats, you are now a certified lash technician! Once you get your lash extension certification in applying eyelash extensions, it's time to formalise your business. This can be done at earlier stages, but getting your lash certification is the most important step as this will be necessary for insurance purposes. Your insurer may ask for proof of your course certification. Business insurance is not only affordable, it's essential! Protect yourself and your newly established lash business by seeking insurance. Hoping you never need it, it's better to have it than not. 
Registering your lash business (ABN and Business Name), is done online. You'll need to decide the structure of your business. You may wish to setup a partnership, register as a sole-trader, or setup a company. Seek what's right for you. Consider professional help or learn online using the Australian Business Register website. At the time of registering your business name, it may be worthwhile checking to see if there is a matching domain name available (if you intend to build a website for advertising and portfolio purposes). You can use providers such as GoDaddy or Crazy Domains to register your domain name.
Time to make some money. Getting lash clients is your income, so pay close attention to what works for you and do it consistently. It's great to have started making money, but you should keep up your efforts as consistency in advertising is crucial for continued revenue. There are free methods of advertising and promoting your new lash business which are recommended to even the already established lash businesses. These may include reaching out to family and friends for support, social media content created by yourself, blogging, creating a Google Business Listing, and (the best of all), word of mouth and referrals. You will be surprised how many free resources there are online to create content that looks professional. Once you have started these free methods of gaining clientele, then should you consider paid methods of advertising. These may include ads on social media, creating a website, printing business cards and flyers for letterbox drops. Get used to the idea of creating a 'brand' for yourself, as this is a digital representation of you and your lash business. 
Find out more about gaining clientele and expanding your business in our blog 'Attracting clients to your newly established lash salon'.
For any questions or for more information on our lash products, lash training and courses, feel free to contact us here, or email hello@lashbossmelb.com
---