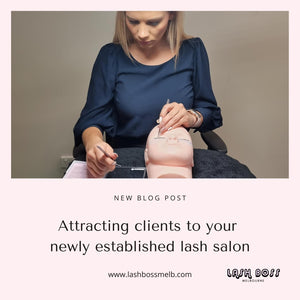 Attracting clients to your newly established lash salon
Getting clients for your new lash business is an ongoing struggle for some. Finding lash clients can be easier than you think. You'll find it very satisfying and motivating once your start building clientele, so keep it consistent to have a good flow of clients coming in. 
Starting with an often neglected digital marketing platform - websites. A simple yet constructive website that includes reviews and testimonials, description of eyelash extension services, a client booking system, all can be the difference of looking like an okay lash tech and being a professional eyelash extension technician. Basically, the more information you provide on your lash business, lash extension services, lash extension pricing and past customer satisfaction, the better. The reviews and testimonials you display on your website shows your performance as a lash technician, enabling trust to future clients. Don't miss those paying clients by neglecting your website, or not having one at all. Over 50% of your market uses Google to find a reputable eyelash extension technician. Be found by being present - similar to your social media. 
Social media pages have a way of directing people to your lash business. Social media algorithms act as a search engine, catching your potential customers while they are casually browsing. Using key words, interests, and capturing other data, they can literally showcase your lash business right in front of your customers eyes. Similar to a website, use social media as a platform to present your amazing lash application skills and super satisfied customer testimonials.
Incentives are a shoppers best friend. Consider discounts, offers and referral programs on lash applications or lash products. Anything that can bring value back into your clients pocket is a solid way to transition them into repeat customers. You can even bring them back to your lash salon with a rewards program, where consistently returning will have them saving money. Retaining customers is just as important as gaining clients. 
Support from your friends and family is vital. Word of mouth about your new lash business starts from family and friends, helping your new venture flourish. Get it right by introducing your lash business to your loved ones. Incentives, discounts, giveaways and promotions for friends and family are an option but are ultimately your decision.
Word of mouth is our favourite, and the lash industry's best form of direct marketing. Being free, and extremely successful, word of mouth marketing can expand your business in a matter of months, potentially weeks. We naturally make recommendations and referrals to people we know in everyday conversation, so encouraging your clients to recommend your lash extension business to their network is an amazing strategy to quickly grow your lash business.
We believe referrals are a strong form of free and successful networking that can expand your lash extension business. We have more information on word of mouth marketing here, "Your best marketing strategy - Word of mouth."
If you have any questions about how to be a qualified lash technician, or how to start your own lash extension business, feel free to contact us here or email us directly at hello@lashbossmelb.com
---