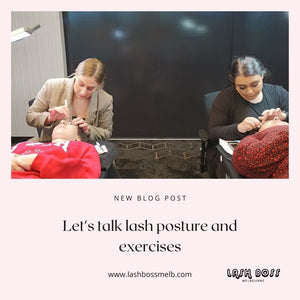 Sore back from lashing? Lets talk lash posture and exercises
Applying lash extensions can be painful after a couple hours. Especially with clients (do we dare say), 'back-to-back'. Here are a few tips on how to alleviate any back pain you might encounter while applying lash extensions, and how to reduce the chance of recurring back pain while lashing. If you are experiencing back pain it is recommend to speak to your health care professional. 
The chair of your choice may be comfortable at first, but consider your posture and support that chair is offering your back while you lash. It's only after prolonged use that you will notice that your chair may be what's causing any pain. Lash technicians around the world are jumping on board with an ergonomic chair. 
Keeping your back straight, chin up, and feet flat on the ground are all ways to improve your posture while applying eyelash extensions. Another way of looking after your back may be a support belt or posture corrector. These are great as they remind the body to keep a healthy posture even when your mind is occupied with your clients' eyelashes. They can be worn underneath your clothing, so shouldn't be noticeable to your clients.
Working out those back muscles are a must. Even though you're seated and you may not think of lashing as strenuous exercise, your back muscles are working hard to hold up your upper body in sometimes awkward positions for a long period of time. As well as being strong, back muscles should be stretched before committing to that 1.5 hour lash application session. Be sure to stretch between clients – even 5 – 10 minutes of walking, standing or stretching is better than no movement at all.
Consider going for a massage from time to time. Your back may develop knots, which could be the underlying issue for your back pain. A good massage should get the knots out of your back, which could also help you have a better overall posture.
Looking after your back is important especially for a lash technician. You may be lashing for long periods of time, for a long time – so be sure to follow some of the tips suggested for a healthier lashing experience.
---