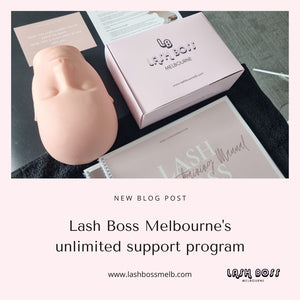 Lash Boss Melbourne's Unlimited Support Program
We get asked a lot, so we've compiled a blog to further elaborate on our Unlimited Support Program. Existing students, graduates, and future students can all benefit from our unlimited support - because it means exactly as it reads - unlimited support. 
With the purchase of any Lash Boss Melbourne course or training, we provide support through email, phone call, SMS messages, social media DM's, website live chat, and in-person (appointment only). This is a free service that Lash Boss Melbourne offers, enabling all students and graduates the privilege of having their questions heard and answered, no matter where they are in their studies or career, without expiry. 
Lash Boss Melbourne has offered this added service to ensure students are not left in the dark at any point. Our eyelash extension courses also have no expiry whatsoever for completion. Some students have had changing circumstances, which has put their lash course and lash career on pause for a year or two. Our support enables them to come back to their course with comfort and ease, allowing them to receive the assistance they deserve. 
Lash supplies have directions that need to be followed, particularly lash products that are liquid, such as lash glue, primer, remover, lash perming solution, lash tint, and lash cleansers. Lash extension students can always come back for tips, techniques and tricks on best lash application methods, humidity ranges, supplies ingredients lists, and allergen information. 
We also assist our lash course students in basic digital and social media marketing advice, website, hosting, and domain information. As well as how to gain clientele through most online marketing methods. The information we provide is limited, however, will guide you to get the best results when starting your own eyelash extension business.
We can also point you in the right direction for eyelash extension business insurance, business name and ABN registry. These are the more formal aspects of a lash extension business that require graduated lash students to do their own research and do what's best for their eyelash extension business goals. 
If you're a Lash Boss Melbourne student or graduate that is seeking answers to your questions, please get in contact today so we can help you perfect your eyelash extension skills, or advance your eyelash extension business. We love to help, so please don't hesitate to reach out here.
If you're interested in an eyelash extension or lash lift course, we have in-person training or lash course packages to suit everyone's needs. Get in touch with our friendly team for advice on the best lash extension course for you. We have group discounts, occasional sales and alternate payment methods available. Afterpay, ZipPay, and PayPal all support Lash Boss Melbourne.
---