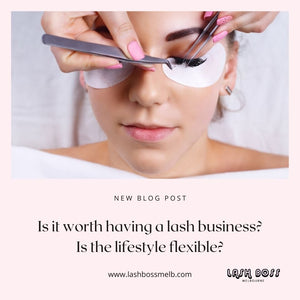 Is it worth having an eyelash extension business? Is the lifestyle flexible?
The beauty industry is growing more and more competitive all the time as people from all over the world aim to keep up with the latest trends. In fact, the beauty industry is currently worth $6.5 billion in Australia and is expected to grow even further over the next few years. Consumers crave the ability to mimic the looks of their favourite celebrities by investing in hundreds to thousands of dollars worth of beauty treatments.
For eyelash extension technicians, learning the art of applying lash extensions can be a great way to harness this trend in a financially lucrative way. Lash treatments provide an excellent return on investment for lash technicians and meet a growing consumer trend for semi-permanent cosmetic solutions. Given the high demand from customers, lash extensions are a great add on to existing beauty treatments and can be easily added to your current services.
Lash extensions not only have a great profit margin, but a skillful lash extension technician can have the ability to boost their customers' confidence by providing them with their desired look. I do recommend that you are trained by experienced and knowledgeable lash trainers so that you can provide your client with the best possible services.
Personally, having a lash extension business has changed my life. I'm able to apply lash extensions to clients from home while raising my son, and I train students in lash extensions in Chadstone. The beauty of a lash business is most of them are conducted from a home salon. That is one of the reasons I explored the option. My prices in lash applications are affordable because I don't have ridiculous overheads as someone who is renting a salon. I can focus my energy and money on building my business. Before COVID-19 I enjoyed having a busy social life. I would visit friends in between clients or enjoy brunch followed by lashing.  
If you have been thinking of doing a lash course but have some questions I would love to talk. Otherwise, click here to view some lash extension course options for more information.
---