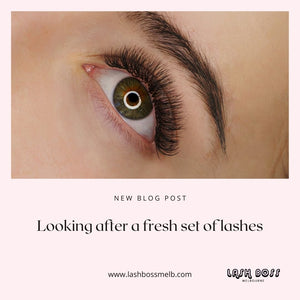 How to look after a fresh set of eyelash extensions
Eyelash extensions are the perfect enhancement to your natural lashes. Available in a range of lengths, styles and thicknesses, lash extensions make your eyes stand out without the need for mascara. Looking after your new set of lashes properly is essential and is the best way to guarantee long-lasting lash extensions.
One great, simple way to look after your lash extensions between appointments is to brush them. Without brushing, over time, your lash extensions may start to cross over, tangle and fall out. Invest in a lash brush (mascara wand) or spoolie and brush the lashes in the same direction every day. This will keep the lashes looking fuller, defined and prevent them from falling out as easily.
Mascara is not needed with lash extensions, but some people may choose to wear other eye makeup such as eyeliner. When it comes to removing this, use gentle micellar water and never scrub your eyes – the friction can cause the extensions to fall out, tangle or damage.
Bacteria can build up around the eye area, especially if you wear makeup. Oils can collect and over time, causing the lashes to detach from your natural lashes. Prevent this by regularly using a lash cleanser. Oils from makeup such as mascara and some eye liners can cause the lash glue to deteriorate. Lash cleaners are gentle and suitable for use around the eye area. Massage the lashes from base to tip using the cleanser and rinse with water for clean and healthy lashes. Leaving lashes with built up bacteria and oil can cause painful or itchy irritation.
Sometimes, if one lash extension falls out, it can be tempting to start picking. However, pulling out your lash extensions is a very bad idea, as you may also end up pulling out some of your natural lashes. If your lashes look sparse, use a brush to comb them back in to place. Also, ensure to book regular infills to remove the temptation to pluck them out.

For more information on retention, or if you have any questions, feel free to email us at hello@lashbossmelb.com
---