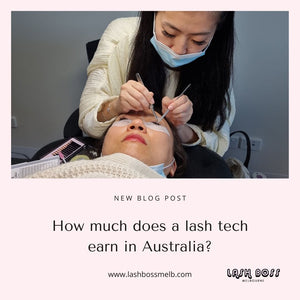 How much does a lash technician earn in Australia?
As a Melbourne Lash Academy, we get asked all the time: "How much can I make as a lash technician?" "Is doing a lash course and training in lashes worth it?" The exact answer is not easy to work out - so we've ran up a few scenarios for new lash technicians to consider before committing to a lash course. Lash extension courses, lash products, accessories, lash supplies, and eyelash extension business running costs can be minimal, especially for lash technicians working from home salons. Being a lash technician offers great returns in comparison to many other professions, including beauty, health, skincare, and like-industries. 
Below is a demonstration of what a beginner, intermediate, professional, and expert lash technician can expect to make, based on an averaged charge over 5 lash extension clients in a day, lashing 5 days a week, working 4 weeks per month. Lash technicians or future lash students can use this information as a basic guide to try and work out their potential revenue from lash extensions.
Charging an average of $70 (beginner)
$350 a day
$1,750 a week
$7,000 a month
Charging an average of $90 (intermediate)
$450 a day
$2,250 a week
$9,000 a month
Charging an average of $110 (Professional)
$550 a day
$2,750 a week
$11,000 a month
Charging an average of $150 (expert)
$750 a day
$3,750 a week
$15,000 a month
Lash technicians and lash students can also have great flexibility and an amazing work-life balance. Lash extension applications offer the best and most rewarding career alternative to conventional 9-5 jobs. Many of our lash extension students and graduates have come from various industries and working backgrounds. Just to name a few; nurses and health care workers, teaching and education professionals, production and manufacturing jobs, designers (from fashion to interior designers), sporting and physical instructors, event and wedding planners, HR and recruitment agents, bookkeepers, accountants, other beauty business and small business owners have converted to becoming lash technicians, home salon and lash business owners. 
These figures are estimates based on average charges and do not include a lash extension course, setup expenses, taxes, insurance, running costs, etc. If you'd like a more detailed breakdown of lash business costs to work out more specific profits and expectations, feel free to send us an email for more information! 
If you have any questions, are interested in a course, want to hear more about a certain topic, or are a student needing advice or assistance, click here to get in touch. Our friendly staff will get back to you with helpful guidance.
---