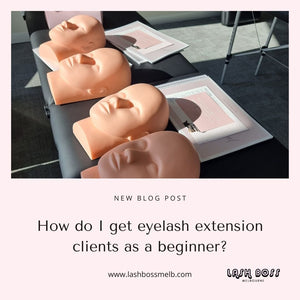 How do I get eyelash extension clients as a beginner?
Gaining clientele is a big part of having your own eyelash extension business. Lash clients are your only chance at success, and bringing them through the door is not always an easy task. Gaining clientele in the eyelash extension business is a module in our eyelash extension courses. We have helped many Lash Boss Melbourne students build and grow their eyelash extension businesses by steering their marketing strategies in the right direction. There are countless ways to market your eyelash extension business to gain eyelash extension clients. 
Having a point of difference can also help potential eyelash extension clients in your area choose your eyelash extension salon over a competitors business - examples include; mobile eyelash extension services, other beauty treatments (consider lash lifts and lash tints), offer discounts for friends, and different application style options that others don't offer - colour options, length, curl, thickness and style options.
The key to most eyelash extension businesses is repeat customers. Many eyelash extension businesses start off by providing their lash clients with very affordable or discounted eyelash extensions. This helps them to grow their eyelash extension business with a high customer return rate, particularly if they are doing a fantastic job at applying eyelash extensions. Pricing of your eyelash extensions services can later be adjusted depending how busy you get, and how much workload you can handle. You can then filter out the cheaper paying customers for new, higher paying clients! Other eyelash extension businesses may use a rewards program for returning customers, where eyelash extension customers are rewarded after X amount of visits. 
Traditional forms of marketing are an assured way of growing an eyelash extension business, however, in recent times, the price of marketing traditionally has exceeded in comparison to marketing digitally or on social media. Traditional marketing often means offline - including letterbox drops (flyers and business cards), TV and radio, billboards, newspaper and magazine ads. Medium to larger sized businesses are more inclined to traditional forms of marketing. Digital and social media marketing are cheaper, and can be free at times, which is why many smaller and newly established businesses go for social media and digital marketing. 
Social media and digital marketing have revolutionised the way eyelash extension businesses build their brand, reputation and expand their reach. The easiest, fastest, potentially cheapest method of marketing an eyelash extension business today - sometimes even free. Engage directly with your current and prospective eyelash extension customers. Expand your brand's reach and awareness by uploading content regularly, whether it be photos of your eyelash extension work, client testimonials, videos or information regarding your eyelash extension or lash lift services.  
While word of mouth relies heavily on high quality eyelash extension work, satisfied customers and lots of time to build, it could very well be the most effective and rewarding way to market your eyelash extension business. Many eyelash extension businesses subtly remind their eyelash extension clients to refer their eyelash extension business to friends and family, which works tremendously - almost creating a network or community of eyelash extension clients for your eyelash extension salon or business. Word of mouth creates trust and a strong reputation for your eyelash extension business. The best way to promote word of mouth marketing is by providing excellent customer service and even better eyelash extension applications. 
If you found this information useful, and are considering a course with Lash Boss Melbourne, we have more on how to market your eyelash extension business in our Marketing Manual, which is included free in every Classic, Volume, or Classic & Volume eyelash extension course. If you have any specific questions or would like to talk to someone regarding an eyelash extension course, marketing your eyelash extension business, or have a general enquiry, you can contact us here, or email hello@lashbossmelb.com - we're always here and happy to help!
---