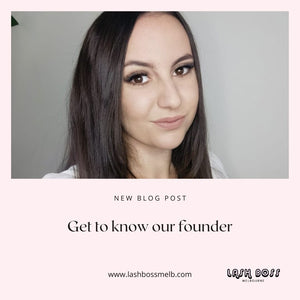 Get to know the face behind Lash Boss Melbourne
Hi everyone and thank you for showing interest in my first blog post. I want my followers and students to get to know a little bit more about me. I will be sharing my love for mum life, wife life, business and lifestyle.
My name is Ayla Ayse and I'm 25 years old, living in Melbourne, Australia. I'm a mother to a beautiful 1.5-year-old. It has always been my dream to become a Mother and I am absolutely obsessed with my son. My son's name is Ziya which means bright and intelligent, which I find defines him very accurately.
I married my high school sweetheart. He is my number one supporter in everything that I do. My husband does so much behind the scenes for my company.
I graduated from University in 2016 with my Bachelor of Landscape Architectural Design. I completed university at 22 years old and that's something I am very proud of. I'm thankful for the skills and many programs I have learnt from my course, as it has helped me formulate my lash business and continues to help me create content. 
I run a successful lash (salon) business from home and am helping other women do the same. I have recently started lash training from an office which is based in the Chadstone Offices. I have been lashing for just over two years and have loved every minute spent 'working'. My aspiration is to assist women in living a more flexible work-life balance (particularly and especially other Mums).
If you'd like to get to know me more, have any questions, or would like information on any of my available lash products, lash courses and packages, please feel free to email or Direct Message me. Thanks for reading and if we haven't already, I hope to connect soon!
Ayla A.
---