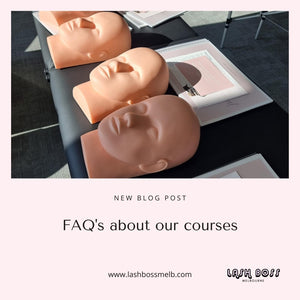 FAQs about our eyelash extension courses
What does it mean to complete an at-home learning lash course?
Lash Boss Melbourne is the leading lash academy for at-home eyelash extension training. We offer both in person classes and at-home courses. At-home eyelash extension courses were introduced to comply with Covid-19 restrictions. An at-home lash course with Lash Boss Melbourne is a great option for anyone who is confident in learning from home with supplies and a mannequin. Our at-home eyelash extension course involves remote learning using a detailed and step-by-step manual on how to apply lash extensions, along with a mannequin head and extensive lash supplies kit. 
Lash Boss Melbourne will guide you through your journey with our expertise to make sure you're making the most out of your course and skills, ensuring you have the capability to start and run your very own lash extension business. Our mentorship programs are designed to cater to your needs and are completely tailored to your lifestyle and goals. We as a company are passionate about helping your business grow and thrive. There is no extra fee to have ongoing mentorship and support. It is included in all our packages. Our support is via email or phone call.
All our courses come with a large supplies kit and include:
In-depth Lash Boss Melbourne lash training manual (Classic lash extensions and/or Volume lash extensions depending on the package)

Student lash extension kit (All essential lash extension accessories and supplies for the application of approximately 20 clients. Some products last more eg: our Lash Boss Melbourne primer will last for 100 clients as well as our adhesive stickers)

Mannequin head

20 Practice lashes

Lash Boss Melbourne's lash extension trays (Classic lash extensions and/or Volume lash extensions depending on the package. Hand-made lashes will be provided as well as pre-made lashes for the volume course)

Lash Boss Melbourne's glue/adhesive 1-2 seconds

Lash Boss Melbourne's primer

Lash Boss Melbourne's glue remover

Adhesive silver stickers

Mascara wands

Micro swabs

Jade stone

Lipstick wands

A set of our Lash Boss Melbourne stainless steel professional lash tweezers

Clear micropore medical tape

Disposable glue rings

Gel under-eye pads in purple (clean ingredients to ensure clients are less likely to have a reaction

Black air puffer 

Large clear case 
Our support includes:
Lash extension business guide 

Lash extension marketing plan

Lifetime student discount to Lash Boss Melbourne's products and other training options

A Certificate of Completion on Eyelash Extension Applications (Classic or Volume)

Ongoing support from the moment you enrol
Modules of our Classic & Volume lash extension courses:
History of eyelash extensions (Classic and /or Volume)

Annually salary and profit 

The growth cycle of natural lashes and health

Difference in Classic and Volume lash trays + breakdown 

The cost of products for a lash technician to complete a set 

Tweezers

Placement of extensions

Eyelash extension weight formula 

Lash techniques 

Lash styling 

Lash mapping 

Golden rules for eyelash extensions 

Lash troubleshooting

Light Volume, Mega volume and Hybrid extensions (Volume course only)

Blending lashes 

Different eye shades

Priming natural lashes 

The application of gel eye pads and safety 

Lash accessories (medical tape, glue rings, removing lash fumes, jade stone etc) 

Curls and thicknesses

Lash adhesive safety

Step-by-step instructions on how to apply lashes

Performing a patch test 

Full set and refill lash applications

Reactions 

Retention 

Lighting - options 

Ergonomics 

Eyelash extension removal

Client consultations

Product knowledge 

Aftercare 

Hygiene

Pricing 

Time management 

Lash artistry 

Lash salon

How to gain clientele

Business guide  

Tips and tricks every lash technician needs to know

Building clientele

Tax & GST

Business guide to assist in setting up and running your business 

Branding breakdown and awareness analysis

Content ideas for 15 days 

Marketing - writing a mission statement, target audience and using your branding to grow your business 

Growing your social media pages and expanding your reach

Useful links to set up your business, graphics design, website creation and business name registration
How do I enrol into a Lash Boss Melbourne course?
Please select your package, add it to your cart and confirm your order. We will automatically enrol you. 
If you would like to enrol into a class and have purchased the appropriate package, you will receive an email to select your date(s) once we receive your order confirmation. This email will contain a list of dates and times to choose from. Once you have selected your desired date to attend a class we will send you a confirmation email with your itinerary. If you have any questions relating to dates and times please contact us.
What can Lash Boss Melbourne offer?
Our objective is for you to be fully qualified in eyelash extension applications and open your very own lash business or lash salon from the comfort of your own home. Your lash extension business can start with yourself as the only lash technician and can be scalable to an extensive lash salon with many other lash technicians servicing hundreds of lash applications a month. 
We not only teach you all the things you need to know about lash extensions, but we also mentor and guide you into having a successful lash extension career. It's important for us to know that all our students are getting the most out of the experience and course. We pride ourselves in helping our students become business owners with a steady income.
Do I need any beauty or lash experience to do the Lash Boss Melbourne course?
Our lash extension courses do not require any previous qualifications or experience in lash extensions for you to start your lash training. At the end of your lash training course with Lash Boss Melbourne, you will be a fully qualified Eyelash Extension Technician. You could be qualified to apply lash extensions within just 1-3 days. Our courses break down each key component and thoroughly explain each topic.
Should I complete a classic course prior to doing volume even if I don't want to do classic lashes?
In order to complete a lash course in volume lash extensions, we recommend completing a Classic lash extension course prior, or already have a Classic Lash Extension Certificate prior to starting a volume lash extension course. A classic lash course will set your foundation. The volume course is more advanced and reflects techniques you should know before beginning a volume lash course.
Will I learn hybrid lashes?
Our Volume course covers hybrid lashes while demonstrating the ins and outs of completing the perfect set.
Do the courses have an expiration date?
Not at all. Our courses are completely at your own pace. Most students complete our at home courses in 1-3 days of receiving their kits. Although, there is no time frame and no expiration date. Our at-home lash course is perfect for full time students, workers or mums. Our courses are easy to understand and follow. 
What if I want a class after I have purchased the at-home kit?
I
f you decide that you would like to purchase a class after enrolling into our course, students are eligible to purchase a class for an additional $500 per class. Students will receive some additional supplies and a framed certificate on the day (if they have completed a full set on a live model).
Our classes run for 5-hours each class at our Chadstone Office location opposite Chadstone, The Fashion Capital. 
How do I access ongoing mentorship and support?
Your lash trainer will get into contact with you and provide you with a number and email that is for our students to gain that support. Our mentorship is free of charge for all students that have enrolled into any of our courses. 
You might have questions about where to purchase products, lash beds, lash legislation, customer complaints, etc. We will be able to help and guide you in the right direction.
Do you recommend an in-person class or the at home version?
Both courses and kits are identical. There is no difference in the in-person lash course or at-home lash course. Our manuals are exactly the same, as well as the supplies kit. It comes down to whether you prefer to learn in a classroom environment or are comfortable learning by yourself with our manual. Our manual is filled with step-by-step instructions and information to make learning easy and elaborate. 
Both courses have our support and mentorship. If you need further assistance we can send you some videos and content to assist as best as we can. 
Do students receive a discount on the Lash Boss Melbourne store?
Yes absolutely. All students receive 15% off for life and exclusive offers via email.
How many lash sets do I need to complete to gain my certification? How do I get my certificate? 
We ask students to complete as many as they can, as the more work we see the more feedback and constructive criticism we can provide. The minimum requirement is 2-4 sets per lash type (classic or volume). You will need to send before and after images of your work to Lash Boss Melbourne via the email provided. We will give you some feedback to complete your final set for assessment.
All work needs to be submitted to our student mentorship email (this email will be provided to students), and we will provide your feedback and certification accordingly. 
Your sets must be at an acceptable level and presented without being edited or with filters.
Can I pay in installments? 
Afterpay & Zippay is available on all lash courses, classes, training and lash supplies. We also offer a pay on the day service for in-person classes only.
Is there an age restriction?
We don't have an age restriction. We expect all students under the age of 18 to have parental consent to enrol and complete the course.
How long does shipping take?
Express:
 The courier company we use is very quick. In general, same-city deliveries arrive overnight or the next day and deliveries to nearby cities within 2-3 days.
Express shipping orders will be dispatched within 36 hours of the order being placed. Express shipping is flat rate of $10 Australia wide
Standard:
Is usually 2-3 business days in metro Melbourne and deliveries to nearby cities within 4-5 business days. 
Standard postage orders will be dispatched in 1-3 business days.
Shipping is free on all lash courses Australia wide.
Worldwide:
Shipping worldwide varies per country, please contact us for further information on shipping your parcel to your country.
I have a question that isn't here, where can I ask them?
Our best contact details are below: 
Feel free to contact us via our social media also
---