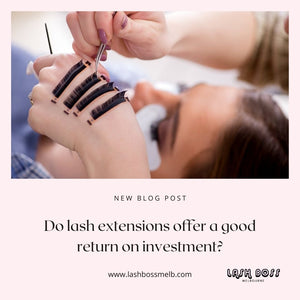 Do eyelash extensions offer a good return on investment?
Training courses for eyelash extensions are a valuable investment. The cost of your training might get you thinking about whether classic and volume training is actually worthwhile. However, being able to offer eyelash extensions as a fully trained lash technician gives you a fantastic return on investment.

Eyelash extensions can be a highly profitable business, especially if you're working from home or in a mobile capacity. This automatically means you don't have to factor in the cost of renting salon space. The actual treatment cost is usually as little as a few dollars per client, but you can charge around $150 for a treatment that takes between 1-2 hours. Of course, the amount you can realistically charge for your treatments will depend on your level of experience.

With Lash Boss Melbourne's at home training packages ranging in price from $450-$800, it means you only need to see a few clients to get your investment back. Training sessions in person at our Chadstone office cost more, but even with our highest priced and most comprehensive training course, you could get your investment back after just 10 clients.

Taking all this into consideration, it's clear that training as a lash technician offers you a fantastic return on investment and can really increase the profitability of your business. If you're ready to make a valuable investment, take a look at our website https://lashbossmelb.com/collections/at-home-packages  
Or contact us through https://lashbossmelb.com/pages/contact to find out more about how taking an eyelash extensions training course could help your business to thrive.
---