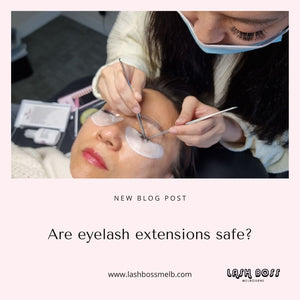 Are eyelash extensions safe?
Eyelash extensions can be quite the investment of both time and money. However, eyelash extensions are the easiest ways to get fuller looking eyelashes without having to wear mascara every day. An eyelash extension application is fairly straightforward: Your eyelash extension technician will cleanse your eyes, then apply individual eyelash extensions to your natural lashes. If you have very sparse natural eyelashes or just want more volume on top of what you already have, eyelash extensions might be exactly what you need. Eyelash extensions are not an invasive procedure, and your eyelash extension technician is trained to perform the procedure safely. It is extremely rare for anything to go wrong during an eyelash extension application.
If you've ever wondered whether eyelash extensions are safe, then this is the blog for you. Eyelash extensions are probably one of the first things that come to mind when people think about beautifying their faces. For some women, natural eyelashes just aren't long or full enough. For those who want more dramatic eyelashes than natural, but don't want the hassle of daily mascara, eyelash extensions are a great alternative - they add length and volume without harming your natural eyelashes. As long as you do your due diligence and find a good, professional eyelash extension technician to apply them
Eyelash extensions are a safe, effective and long-lasting way to enhance your natural lashes. As with any beauty treatment, it's important to do your research before choosing an eyelash extension salon or eyelash extension technician. Make sure they use high quality eyelash extension products and sterilise their tools properly. 
If you're considering eyelash extensions for the first time, don't be afraid of asking questions! Your eyelash extension technician should be able to explain how they'll apply the lashes and what kind of maintenance they require. It's also helpful if your eyelash extension technician can show you examples of past clients' eyelash extensions so that you know what results are possible with this procedure.
Eyelash extensions are safe when applied correctly, but they can cause some damage to natural eyelashes if not applied properly, or removed using the right process. As with any cosmetic procedure, it's important that you follow all of the aftercare advice from your eyelash extension technician.
There are risks associated with every type of cosmetic procedure and eyelash extensions are no exception. Eyelash extensions can cause damage in the following ways. For example, someone can have an allergic reaction to lash adhesives (used for bonding the eyelash extensions onto natural lashes), or if the wrong eyelash extensions are used, there can be too much strain placed on the natural lashes. Over time the added weight of the wrong eyelash extensions can cause the natural eyelashes to fall out too early, resulting in poor eyelash health and slowing new natural eyelash growth.
This in mind, there are a few things you as an eyelash extension customer can do to eliminate the risk of having damaged, missing, sparse, painful natural lashes. 
Check the eyelash extension technician's qualifications. A certified eyelash extension technician should be able to supply proof of their certification - which will allow them to work in your state or country. You also want to make sure that they've been trained specifically on the type of eyelash extension type you're interested in. (Classic or volume eyelash extensions, for example). If they don't have these credentials, then it may not be worth having them apply eyelash extensions on you. 

Make sure they use professional eyelash extension adhesives, lashes and products only! The glue used for eyelash extensions are strong and could irritate sensitive eyes if not handled properly during an eyelash extension application. 

Knowing and using the correct eyelash extensions for your natural eyelashes. A technician should know the basic yet fundamental rules for applying eyelash extensions. As an example, an eyelash extension should not be 50% longer than your natural lash. The added length and weight of the eyelash extension could cause damage to your natural eyelash. 
If you have unanswered questions about whether eyelash extensions are safe for your natural lashes, please get in contact for further clarification. Our friendly team can help you understand why eyelash extensions should be a safe procedure, what to look for, and what to stay away from.
---