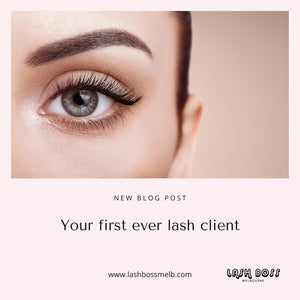 Your first ever eyelash extension client
Starting a business in the lash industry is a rewarding, fun and flexible lifestyle. There's a starting point for every business and it's always exciting yet daunting at first. We aim to cover everything you need to know before your first ever lash client arrives, tips for when your client is present, and what to do after every lash application session to ensure your appointments are smooth and comfortable for both you and your customers.
Before your client arrives
First and foremost, you need to ensure your lash room is ready. This means any equipment you'll need during your appointment, any decor, and lash extension supplies. It's a good idea to guarantee you have the correct lash supplies for the work you will be carrying out. Consider discussing what your client wants in terms of lash styling and lengths before they arrive. Give yourself ample time to source additional lash supplies if you don't have the stock available. 
First impressions can mean a lot. It's a good idea to imagine yourself as being the client that enters your lash home salon. What would you like to see? What wouldn't you like to see? A clean environment is highly regarded for most of your clients. Some useful things to include in your new lash salon include a mirror for clients to see end results, a first aid kit, sanitisation station for your hands as well as tools, wipes and towels, consultation forms to be filled out before you start any applications or removals.
Although this step can be done right before you start your application, it might be a good idea to have it done earlier to save time. Sterilize all your application tools for the session. This may include tweezers, jade stone, personal mirrors, etc. Use fresh towels and give your workspace a wipe down including the lash bed. 
During the session
So your first ever lash client has arrived, you've welcomed them into your home or salon, the very first thing you should do is hand them a consultation form. This gets all their details and approval for any lash application work you are about to carry out. Once filled out, file the consultation form and discuss the appointment. You may wish to discuss/confirm lash styling and lash extension lengths, how long the appointment will go for or how long they are expected to have their eyes closed, and if they have ever had extensions. This is not only great as a conversation starter, but will give you an idea on their experience as a lash client. 
Offer water, mints and maybe even a collagen lip mask before you start. Have your client lie down on the lash bed, and please take 'before' photos, you will use them to promote yourself on social media or your website.
Once you get started, it's a good idea to check on your client every 20 minutes or so. Some lash technicians like to do an eye at a time, so their clients can see the progress before the full treatment is complete. Be sure to puff away the lash glue fumes at least halfway through the treatment, or after one eye is complete. When you complete the set, definitely do not forget those 'after' photo's. Build your portfolio quickly and consistently. 
After your session
Once your have blown all the fumes out of your clients eyes, remove the gel under-eye pads and ensure there is no irritation or stinging. Allow your client to see the end result, provide them with a mascara wand and explain aftercare. Encourage reviews and testimonials. Word of mouth, referrals and recommendations will expand your business faster than any other way. To lock in further appointments with your client, as if they would like to book in refills in advance. Keep record of their appointment and encourage them to do the same. It's a great idea to follow up with them a day or two before the appointment date.
There you have it, your first client at your own salon! For more tips, for help, or if you have any questions regarding your first client, feel free to contact us here, or email hello@lashbossmelb.com
---