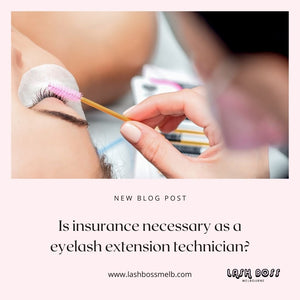 Is insurance necessary as an eyelash extension technician?
If you're starting your journey as an eyelash extension technician, insurance is something you may need.

What insurance do you need and why do you need it?

It's essential for lash technicians to have the right type of insurance in place. If you're running a salon from home, you'll need public liability insurance for damage or injury caused by your business, as well as product liability insurance for damage or injury caused by the products you use.

Whilst eyelash extensions are safe to carry out, it's important to recognise that you're working on a delicate area of the body. It's always possible for accidents to occur. If there's an accident during or after treatment, it's important to have good insurance cover in place and to report the matter to your insurer for further advice.
If you have been employed by a beauty salon you may not need insurance yourself but it is required for your employer to have insurance and work-cover.

What does specialist insurance cover?

Specialist insurance for the lash industry usually covers a variety of different lash treatments, such as extensions and lash lifts. Some policies will also include eyebrow treatments. If you're uncertain, speak to your insurance provider to find out exactly what the policy covers you for and to make sure it's appropriate for your business.

At Lash Boss Melbourne, we want both technicians and clients to benefit from safe treatments. We encourage lash technicians and businesses to purchase ongoing insurance that will cover you in the event of an accident. Not having appropriate insurance risks damaging your business reputation, as well as your finance if you're found liable for an accident.
For more information about insurance or Lash Boss Melbourne products and services, please feel free to contact us at hello@lashbossmelb.com
---